PSX6990 scrap metal shredder
The shredder is designed to shred a wide variety of light and thin materials as discarded automobiles,tin plate,household appliances,bicycles,empty cans,etc.making the materials into pure charge for steel making,By smashing and compressing,the shredder will remove the impurities,raise density,lower transporting and smelting cost to offer good furnace charge for steel plant.



* It is scientifically designed and reasonably configured following customized schemes on customers' field ,output,material types and so on.It is high in automation;
* Monitored by computer,PLC control,safe,high-efficient,conservation of labor;
* Over 90% are produced by the component;quality materials are used for key components;it has exquisite techniques that are more solid and durable;
* All-out environmental supporting facilities on shock absorption,noise reduction and dust removal help bring down second-time pollution;
* Remote diagnosis,24 hours of uninterrupted after-sale service.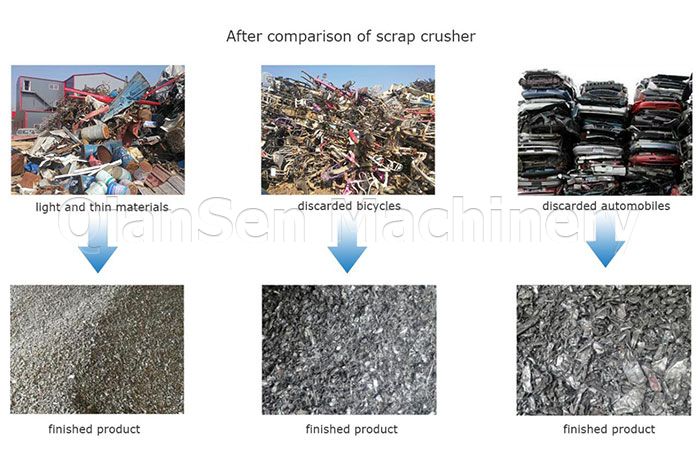 The machine is able to shred:
①Whole or flattened car bodies(without tires,fuel/gas tanks,);
②Tin plate material;
③Electrical appliances(without motor,compressor,axles);
④Bicycles & similar materials;
⑤Empty tanks(without liquid materials & as painting,etc.);
⑥Other scraps suitable for shredding.
Unshredderable materials:
1. Diameter of 20mm,over 7.5meters length steel string;
2. Alloy shaft in excess of 25mm in diameter;
3. Low carbon steel shaft in excess of 37mm in diameter;
4. Plate more than 20mm thickness and that is more than 300mm in any direction
5. Plate more than 25mm thickness and that is more than 150mm in any direction
6. Structural shapes of more than 10mm in cross section;
7. Rebar of more than 30mm in diameter;
8. High carbon bars of more than 12mm in diameter;
9. Steel ingots,billets,and similar types of material.