Scrap Metal Shredder Machine
A scrap metal shredder machine is a powerful industrial machine used to break down or shred metal objects into smaller pieces or fragments. It is commonly employed in recycling operations and metal processing facilities to reduce the size of metal scrap, making it easier to transport, handle, and further process.
Here are some key features and components typically found in a scrap metal shredder machine:
Hopper: The machine has a large opening or hopper where the metal scrap is fed into the shredder.
Shredding Chamber: Inside the machine, there is a chamber equipped with rotating blades or hammers. The metal objects are forcefully pulled into this chamber and shredded into smaller pieces.
Rotating Blades or Hammers: These are the primary cutting elements of the shredder. They rotate at high speeds and exert immense force to break down the metal scrap.
Drive System: A robust drive system, typically consisting of electric motors, gears, and a transmission, provides the necessary power to operate the shredder and drive the rotating blades or hammers.
Control Panel: The shredder machine usually has a control panel that allows operators to monitor and control various aspects of the shredding process, such as speed, feed rate, and safety features.
Safety Features: Shredder machines incorporate safety features to protect operators and prevent accidents. These may include emergency stop buttons, safety guards, interlocks, and overload protection mechanisms.
Sorting and Separation Systems: Some advanced shredder machines may also include sorting and separation systems to separate different types of metals or remove non-metallic materials from the shredded scrap.


About Installation debugging and staff operation training:
A.we will guide your engineer through the whole installation and debugging process by phone or video;It is free of charge.
B.If you need our staff to go to your site to install, is charged.
After-sales service commitment:

1. Our company implements tracking service for products. Pre-sale, sale and after-sales service for customers.
Pre-sales: guidance on equipment layout and equipment foundation;
On sales: guidance on the production, delivery, installation and commissioning technical services of the equipment;
After-sales: Customer daily maintenance, safety production and other services to ensure the normal operation of the equipment.
2.The warranty period for the equipment is 18 months after the arrival of the goods or 12 months after the acceptance (whichever comes first). During the warranty period, the user's fault feedback will be answered within 4 hours.Within China arrived at the customer site within eight hours, other countries to arrive at the customer site within 72 hours.
A.We will send you the spare parts by free if the problems caused by us.
B.If it is the men-made problems,we also send the spare parts,however it is charged.
C.About the purchased parts,Such like:Siemens(motor),SKF(bearing),Rexroth,They are multinational company, and they will have after-sale service points in your local , So you can enjoy global warranty service.
D.The daily loss of equipment provides customers with original parts and processing drawings, which is convenient for customers to choose.
Our Team: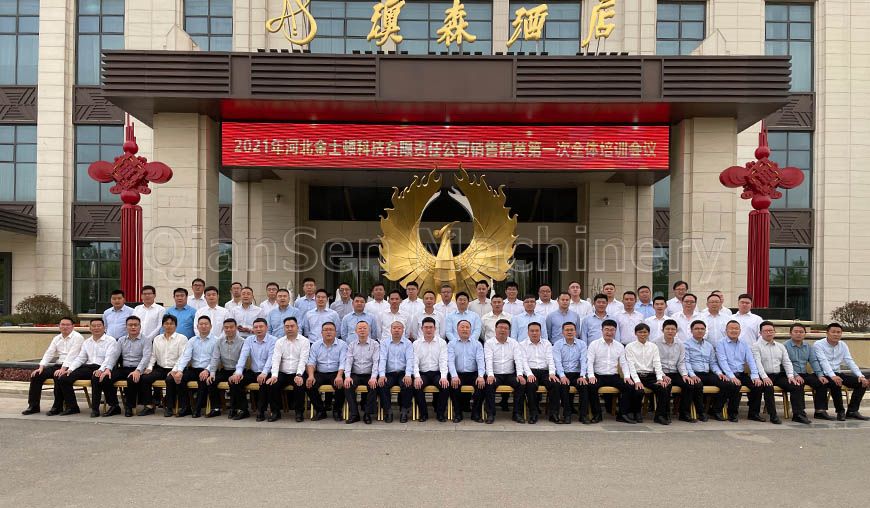 Xinji Qiansen Machinery has all kinds of CNC large processing equipment and welding equipment more than 100 sets, is an integrated CNC blanking, welding, machine tool processing, assembly and debugging as one of the comprehensive machinery manufacturing enterprises. The company was formerly a large metallurgical equipment manufacturing enterprise, with strong technical base, processing capacity, perfect R & D, manufacturing, sales team, since 2000 combined with the United States, Germany, Japan and other national technology committed to R & D, manufacturing scrap processing equipment, and successfully produced 160 horsepower - 10,000 horsepower scrap crushing production line, the company has been Hebei Iron and Steel Group stone home Zhuang Iron and Steel Co., LTD., Tangshan Jinma Iron and Steel Group Co., LTD., Wu 'an Xinghua Iron and Steel Company and the national scrap processing base, etc., provide more than 100 scrap crushing production lines with high quality, high efficiency and reliable performance. At the same time, we also design perfect dismantling and crushing schemes for scrapped motor vehicles, special crusher for machine aluminum, broken bridge aluminum and daily miscellaneous aluminum, nonferrous sorting equipment and layout scheme for customers. LX-75 filter crusher, fire iron crusher, ZT-45 paper crusher, etc., all the time, dry Sen machinery continues to strengthen the quality control concept, has obtained ISO9001 quality management system certification, ISO14001 Environmental Management system certification certificate,ISO45001 Occupational Health and safety management system certification certificate.

RFQ:
1.Are you trading company or manufacturer?
We are the manufacturer, and We guarantee that under the premise of the same technical parameters and quality, we provide the most appropriate price.
2.How long is the delivery time?
For standard machines, it would be about 30 days; For non-standard machines and customized machines according to clients specific requirements, it would be about 45 days.
3.How to pay to you ?
We can negotiate about payment. Generally speaking, our practice is:T/T in advance. We can accept 30% deposit , and balance paid to us before delivery.
4.Where is your factory located? How can we visit there?
Our factory is located in Xinji City, Hebei Province, China, you can fly to Shijiazhuang Zhengding international airport or Beijing Capital International Airport or Shanghai Pudong International Airport,then we pick you by car.Welcome to our factory at any time.
5.How does your factory do regarding quality control?
we are the manufacturer of this kind of shredder for more than 10 years,our customers all over the world, we have rich experience on production and R&D,: All products have to pass strict inspection before delivery. We have gained ISO9001:2008 authentication and Eu CE certification,if you need other certificate and quality control,please contact us.
6.Do you have inspection procedures for machines?
100% self-inspection before packing
7.All products can be customized?
All products can be customized by our team of professional designers.
8. How can i get the after-service?
A. We provide one year guarantee and lifelong maintenance.
B.We will send you the spare parts by free if the problems caused by us.
C.If it is the men-made problems,we also send the spare parts,however it is charged.
D. Any problem, you can call us directly.Anna:86 15930888103(WhatsApp/Wechat)